Welcome to Rightway Professional Services
1022 Coney Island Avenue, Brooklyn Ny 11230
Tel: (347) 915-1600 Fax: (718) 764-1202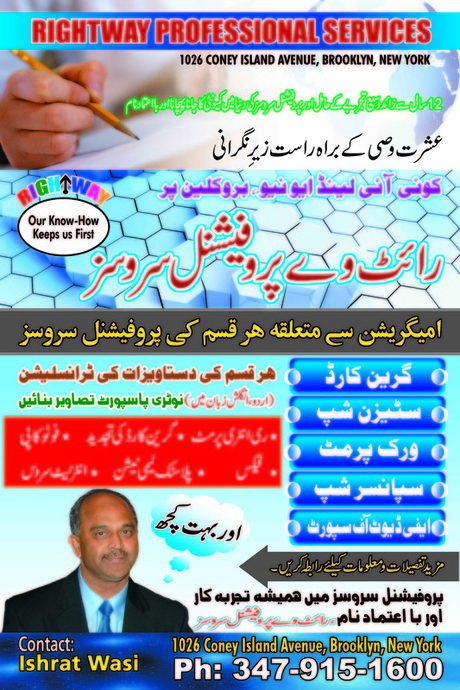 Welcome to Rightway Professional Services, we attend to applications concerning:

-FAMILY PETITION (Form I-130)
-NATURALIZATION
-FIANCE PETITION ("K-1 VISA")
-MARRIAGE CASES (LOCAL
ADJUSTMENT)
-TRAVEL DOCUMENT (RE-ENTRY
VISA)
-WORK PERMIT
-GREEN CARD
-ADVANCE PAROLE
-DS-230 (PACKAGE I & II)
-AFFIDAVIT OF SUPPORT

Considering the heavy flow of immigration inquiries, we have specifically reserved the first hour of our services to valued customers for free consultation. The consultation is via telephone only and begins promptly at 09:00 a.m. to 10:00 a.m. Monday through Saturday, after scheduling an appointment.




---
DISCLAIMER
At RIGHTWAY PROFESSIONAL SERVICES, we are not Attorneys licensed to practice law and therefore, may not give legal advice or accept fees for legal advice. We can only give non-legal help and our services include, translating your answers to the questions on U.S. Citizenship and Immigration Services (USCIS) forms, getting copies of supporting documents, checking materials for grammatical and spelling errors, and assisting with filing immigration forms and the application process.